Welcome to OMEGA General Electricals Your Trusted Kampala Electricians!
Electrical Company in Uganda
At OMEGA General Electricals, we have been providing customers with quality electrical service, elctrical products and seasoned expertise in residential, commercial and industrial electric planning. We are a full service electrical contractor; offering the lastest technology and advancements in the field. You can trust our team with all your electrical needs. We hire only the best, courteous personnel to perform your requested services.
With a first-class reputation among past and present customers, our mission is to continue doing excellent work. No job is too big or too small! We take great pride in our electricians work and count on repeat business and developing long lasting customer relationships – we want to be your Uganda electrician for life! That is why we provide dependable electrical work at competitive prices. We are a licensed and insured electrician.
If you live in the greater area of Kampala and find yourself in need of an electrician, you want to be sure that the electrical contractor you hire will do a good job at a reasonable price. Contact Us to discuss your next project!
We guarantee you, our work is superb and will pass Building and Safety standards.
Have you received a "notice to comply"? We can solve your electrical problems!
at OMEGA General Electricals:
- Same day service
- Flat Free pricing; no hidden charges
- Call us Today and we're on the way.
OUR ELECTRICIANS ARE HIGHLY TRAINED
Since 2002, we have been providing customers throughout Kampala and Uganda at large with quality electrical service in residential, commercial and industrial electric planning. We are not just convincing you, here are the reasons to hire us:
Why Choose Omega General Electricals?
We establish long-term, successful and friendly relationships with all of our clients.

Timely project delivery dates

Unbeatable Prices

We have staff qualified to perform an accurate service

Reliable

Customer Service is #1

With us there will be no any hidden costs?
ELECTRICAL SERVICE UPGRADES
We are Electricians Specializing in Electrical Service Panel Upgrade – We are your go to electric power upgrade specialist!
You will be impressed by our professional attitude, prompt service and support. We assure you that you will be satisfied with our attention to detail and quality of workmanship. Contact us today!!
WIRING & REWIRING
We are the number one local Kampala electrical contractors for any type of wiring.
If you live in Kampala area and other areas of Uganda and are looking for an electrician to help upgrade the electrical wiring in your commercial and industrial building, you have come to the right place!
ELECTRICAL EMERGENCIES
Our Electrical Engineers are experts in domestic, commercial and industrial emergencies
We know that emergencies don't always happen during normal business hours. That's why we offer services before and after our regular business hours, as well as on weekends. – we can help!
POWER AUDITS & SAFETY GEARS
Electricity is a good servant when safe i.e measurements and electrical tests, earthing, safety gears and factory wiring, accessories.
SECURITY SYSTEMS
These include; automatic gates and barriers, surveilance cameras, alarm systems (intruder alarms, fire alarms, etc), security lighting, access control systems
OTHER SERVICES
Maintenance & repair, engraving panels & labels, customerized manufacture, switchboard & distribution board manufacturing, complete electrical system install, cable installation & terminations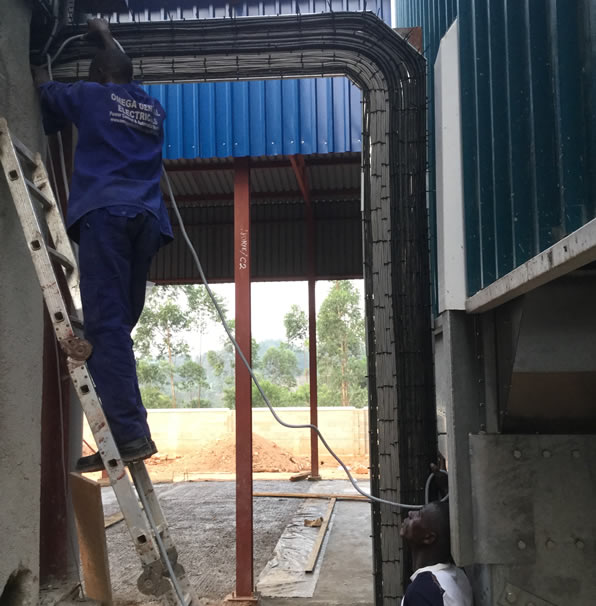 What We Do

Panel Upgrades

Panel Building

Feeder Pillars

Switch Gears

PLC Programming

Troubleshooting

Motor Control Centres

Power Plan

Lighting

Cable Trays
CLIENTS
TESTIMONIALS
OMEGA General Electricals has worked on my projects for the last seven years. James and his staff have completed jobs ranging from the simple single family resident service upgrade to large multi-unit commercial projects and industrial; OMEGA has done it all and done it well. OMEGA electricians show up when scheduled and stay on the job until it is complete. City inspections of OMEGA work always goes smooth. I will continue to keep OMEGA General Electricals as a valuable team member on all my projects.
OMEGA General Electricals have been servicing our properties for years doing a variety of electrical jobs from electrical troubleshooting and electrical service and repair to running additional electrical circuits, replacement of breaker panels, lighting maintenance, etc They are very reliable and efficient and have very good prices. We have come to rely and trust the service provided by the OMEGA team. Their quick response times and attention to detail are vital to our service needs. Our overall satisfaction rate is definitely a 10.
OMEGA is a solid dependable electrical contractor. They are professionals who complete projects as scheduled. OMEGA Electricals has proven to be a competent professional electrical subcontractor. OMEGA Team is very knowledgeable, very reliable, pleasant, professional, and have very reasonable prices. I have been pleased with their work. Will use them again and again. Passed inspection smoothly. Would recommend them.
Electrical Contractor in Uganda
We Love What We Do and Take Pride In Our Work
Utilizing the latest technologies, we are able to provide you the right products and the ultimate solutions for instrumentation, automation and optimization of the industrial processes.
We apply innovative latest technologies and software to design and engineer the right solution for our clients. Our strength is drive by our clients and their unrelenting focus on delivering results the right way by operating responsibly, executing with excellence and capturing new opportunities for profitable growth.
We use only quality components from the industrial leaders, with detailed attention paid to layout, build quality, cables, numbering etc and our products holds a full year warranty.
Typical applications include products like: Automatic changeover switches, Automatic water control pump starters, Automatic motor starters; Soft starters, star delta and D.O.L starters, Control and signaling units, PLC programming and process automations, Automatic power backup systems.
LEGAL STATUS : Registered Name: OMEGA General Electrical. Registration No: 178124. TIN: 10006464